Embark on a story-like journey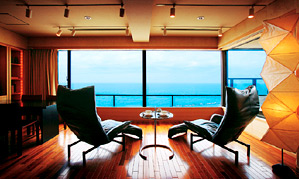 Time passes differently in places of lodging, even more so at Yunohama, a landscape enveloped in the gentleness of the sea. Enjoy your own special story at Isagoya, where you'll find leisure and joy at our seaside inn
A chopstick can bring happiness to your mouth.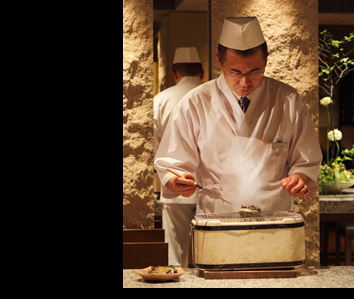 Raging waves and majestic mountains can add something special to food. A vibrant flavor can come from a dynamic nature. This flavor can heal your mind and your body.
This is why such food is used in Japanese traditional medicine. Hisagoya prepares the foods of the four seasons for you. When you request it, we prepare it with Syonai foods.
We would like you to enjoy these selected foods.
The Syonai-area is known for its high quality foods in Japan. We pick seasonal foods for you every time. Many gourmet cuisine use these seasonal foods for their variety and rich taste. Please enjoy.
Famous Pictures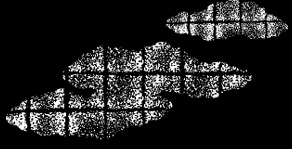 The sunset can be a breathtaking sight. You can watch the sun set over the Sea of Japan while relaxing in our spa. This marvelous view would be the perfect setting for a romantic evening. Please enjoy the moment with this stunning view over an endless horizon.


Relaxation room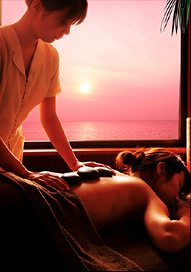 Face Treatment Course

Oil and Pack Treatment 40 minutes : 6480yen
Whiting and lift Treatment 60 minutes : 9720yen

Body Treatment Course

Hot Stone (for upper body) 30 minutes (upper body): 6480yen
Thalasso-therapy (for upper body) 40 minutes (upper body): 6480yen

Special Course

Body Special Course 90 minutes : 15300yen
Total Treatment Course 120 minutes : 19440yen

Short Relaxation

Head Relaxation (Head, Neck, Shoulder) 30 minutes : 4860yen
Foot Relaxation 20 minutes : 3240yen
Please ask us another special course and course for men

Access&Facility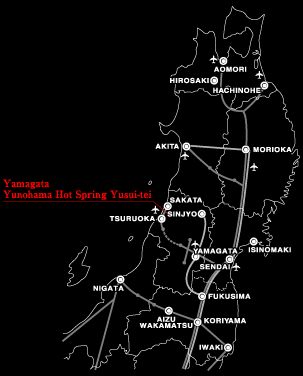 Hotel's information
41 guestrooms (Capacity :182 guests)
Tearoom
Shop
Banquet hall (Capacity :120 guests)
Restaurant (100 chairs)
Men's grand bath (equipped with an open-air bath)
Conference room (for 30 people)
Women's grand bath (equipped with an open-air bath)
Internet space
"Yuraku Doori", with four private baths
Parking lot
Dining room
How to access
By JR (Shinkansen, local train)

Tokyo station (Yamagata Shinkansen, 2 hours 30 minutes) Yamagata station (Bus, 40 minutes) Zao Hotspring resort
Sendai station (Senzan line, 1 hour) Yamagata station (Bus, 40 minutes) Zao Hotspring resort

By car

Tokyo/Urawa I.C. (Tohoku EXPWY, about 3 hrs 30 min.) Murata JCT (Yamagata EXPWY about 30 min.) Yamagata Zao I.C. (West Zao Toll Road) Zao Hotspring resort
Tokyo/Urawa I.C. (Tohoku EXPWY, about 3 hrs 30 min.) Shiroishi Zao I.C. (Zao Echo line, 2 hrs) Zao Hotspring resort